Commercial Law | Conveyancing | Criminal Law | Family Law | Personal Injury | Wills & Probate
We pride ourselves on providing sound professional legal advice in a broad range of specialisations
Professional Legal Services
Given the considerable experience the Canberra based team of Gabbedy Milson Lee has in a broad range of legal areas, we guarantee we can assist you to solve your legal problem adhering to our motto "every knot was once straight rope".
Industrial Law – Unfair Dismissal
Contract Disputes – Debt Recovery
Selling and Buying a Business – Leasing
Licensing – Liquidation – Insolvency
Bankruptcy – Company Law
Purchasing and selling residential and commercial property in the ACT and NSW
Stamp Duty – Concessions
Criminal Trials and Appeals – Defence and Pleas
Bail  Applications – Drink Driving – Traffic Offences
Licence Appeals – Restricted Licence Applications
Coroners Inquests
Child Matters – Residency and Contact – Relocation
Recovery Orders – Child Support
Division of Property and Superannuation
Binding Financial Agreements – Pre-nups – Divorce
De-facto Relationships
Care and Protection Matters
Family Violence
Motor Vehicle Accidents – Work Place Accidents
Compensation for Injuries – Medical Neglicence
Injury due to Defective or Faulty Products
Formerly known as pappas, j. – attorney, our firm has been providing high quality legal services to the residents of Canberra and surrounds for some twenty years, with Nigel Gabbedy having joined the firm in 1998 , Sarah Milson-Mahy in 2001, and Dai Lee in 2002.
In January 2016 we moved from our London Circuit location to our new conveniently located office at Deakin. With our move, it was decided it was time for our family to re-brand, and with that Gabbedy Milson Lee was born.
We remain the same friendly and empathetic firm our clients' have grown to know and love. We pride ourselves on being a reasonably priced firm, despite our extensive experience. Not unlike our symbol of "The Old Cock of Barcelos" you will find us to be just and fair.
Gabbedy Milson Lee has always enjoyed a strong reputation of being fair, direct, and caring towards our clients, delivering timely advice in a professional cost-effective manner. Significantly, we are also well regarded for our – no-nonsense, firm, honest, and fearless approach to litigation and negotiation. At Gabbedy Milson Lee we guarantee we will always have our client's best interests at heart.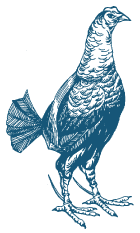 Once upon a time in Barcelos, a small town in the north of Portugal, a man was to be hanged for a crime he did not commit. He swore his innocence but found no alibi to prove the truth of his affirmations.Under a sudden impulse of faith, he appealed to his patron Saint, St. James, for divine protection, and he pleaded to be released from the injustice of his sentence. He then asked to be allowed to enter into the presence of the Judge. As this was to be his last wish, the Judge… 
Read More
We would love to answer any questions or schedule an appointment. Please feel free to call us on (02) 6261 6500, or use the form below.